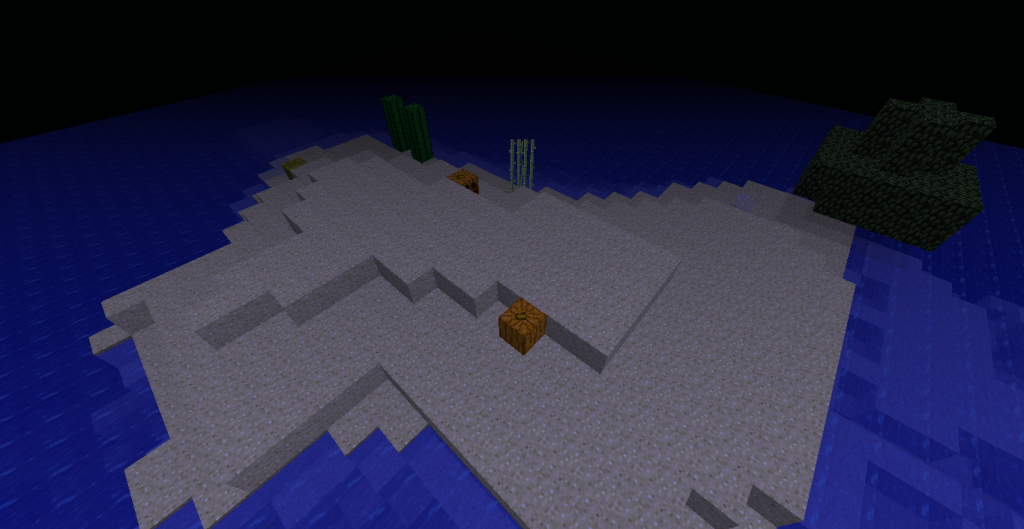 YOU CAN SUPPORT THIS MAP ON THE ORIGINAL THREAD HERE!!
This map was inspired by the VERY original survival island by, sadly that post has been closed for a long time so I was only able to play it for one day until my computer got a virus.
Any way, I have remade this map for 1.0.0 and up, with my own challenges and map. Please read the whole post before downloading(rules mainly), and please leave feedback! More information below! This map was made by me, Chrisman0091.
Story:
You were fishing on your nice boat, with its silver trim and a diamond motor. All of the sudden you see a giant wave at least 20 ft. tall so you turn your boat on full gear and ride as fast as possible. It suddenly gets really dark and a the wave piles over you. You wake up on a small island with a tree, cactus, reeds, and a few other plants. You decide to make a camp and survive as long as possible or until you are rescued, if you ever are!
Challenges:
1.Make a Cobblestone Generator
2.Make a Automatic Cactus Farm
3.Get animals to spawn away from main island
4.Make a Tree Farm(5+ Trees)
5.Make a Normal Farm(wheat,pumpkins,melons,reeds,etc.)
6.Make an Animal Farm
7.Make a 2 Story Stone House with a Basement and Pool
8.Make a Mob Drop(tower where monsters fall down and die)
9.Collect at Least 10 Unused Diamonds
10.Make 2 Full Sets of Iron Armor
11.Survive 10 Minecraft Nights Without Dying
12.Collect Enough Gun Powder to Make 20 TNT
13.Make a Piston Door in Your Basement
14.Find the Treasure of the Lost Creeper Man(ONLY V1.0)
15.Find a Monster Spawner
Rules:
1.No Mods
2.Don't cheat in any way
3.Have Fun
4.Don't Leave the Island
5.Expanding Island is Allowed
6.Play on Easy or Higher
7.Do NOT Claim You Beat it Until ALL 15(or 14 depending on version) Challenges are COMPLETE!!!
8.Do Not Re-Distribute the Map as Yours Edited or Not!
IMPORTANT READ NOW!!!!!
HARDCORE V1.1 MIGHT SAY V1.0 BUT IT IS V1.1 SO DON'T BE TRICKED!!
YOU CAN ONLY COMPLETE CHALLENGE #14 ON V1.0!!
THERE IS NO V1.1 OUT OF HARDCORE MODE!!
Hint:
Cobweb Marks the Spot