The Tiny Mythology Mod which adds a handful of new, tamable creatures into your game, designed to be commanded by you and fight until the death. Choose between Good or Evil and then craft your summoning scrolls to bring your mini army to life!
This mod is made by Bobiking6, all credit to modder. Visit original mod thread here for all info.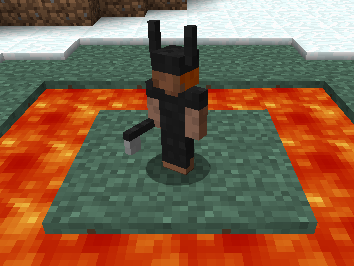 Installer Instructions:
Before installing any mods to minecraft make sure to close minecraft.
Download one of the installers below (no difference they are same, just packed differently) Once downloaded, double click the installer and click "Install Mod". When the installer is done it will display a message that the mod is installed. Then just close installer and start your minecraft. The mod has been Installed, you don't have to do anything else.
If you are using windows 7 and get a message after using the installer that says "This program might not have installed correctly" ignore this message or you can disable this message by using this file here.
If you get an error when using the exe version of the installer download the zip version below, extract the folder from the downloaded zip to desktop and run the installer from the extracted folder. Don't remove it from the folder. You can also try running the installer as administrator if you are on windows 7.
Please Support the mod by downloading from the original mod thread here. And also read the Skydaz conditions.
Mod Version being installed: v3 for Minecraft 1.4.7
Mod Prerequisite: Forge or ModLoader
This mod works with both ModLoader and Forge. If none are installed then Forge is added.
If you are having issues after installing this mod, force update minecraft and install on clean minecraft. Tested and working on clean minecraft. Some mods can cause conflicts.
DOWNLOADS
Download Mod from Original Thread
Download Here .zip (MD5: BA6B69B22A6390440AFFA02B0D7F338F) [drct]
Download Here .exe (MD5: 5FB6D23A36E6A700B5E030E31C7D9AA8) [drct]
PLEASE CREATE A BACKUP BEFORE INSTALLING ANY MODS – START WITH CLEAN MINECRAFT AND YOU WONT HAVE ANY ISSUES!!!  I AM NOT RESPONSIBLE FOR MESSED UP MINECRAFT. YOU HAVE BEEN WARNED.